KS2 SATS Information March 2019
Please click this link to view the results of the recent Parent survey
Confidential Messages
If you have a confidential message that you wish to discuss with Mrs Roberts please feel free to contact her via email robertss@markland-hill.bolton.sch.uk or make an appointment through the school office 01204 332626.
Download the PARENT VIEW information leaflet
OFSTED invite you to provide feedback on your child's school. Please feel free to pass on your comments about Markland Hill School to OFSTED within this confidential link.
OFSTED PRESENTATION FOR PARENTS.
Feedback on our Evening Parent Meetings Feedback.pdf Please click here for the EYFS and Key Stage One meetings held on December 1st.
In this particular meeting, Mrs. Close wanted to share our Ofsted report and how we have adapted and managed the New Curriculum. The format was one of a more 'Formal Meeting'. The other two meetings were not.
A couple of the parents didn't like the formality although they did like the information sharing. At the end of the two presentations, given by Mrs. Close and Mrs. Ewens, the parents were asked which points they would like to discuss on the agenda. In response to this, the parents were quiet so I ( Mrs. Roberts), spoke about how LPPA is helping us to improve how and when we communicate to parents. e.g
Gathering responses to parents and teacher consultation meetings, and responses to our two 'Open Days' ( which resulted in a Welcome Booklet being produced) and responses to the transition phases in school, Reception to Year 1, and from Year 2 to Year 3. We read all the feedback sheets and parents were contacted if and when they raised any issues.
We also gather responses to the assemblies and School Productions that parents are invited to attend.
As a school, we also shared our new 'Reporting to Parents', Statement of practice how we report to parents. See below.
The next set of meetings will be less formal.
Feedback on our Evening Parent Meeting for Key Stage 2, December 8th.
Key Stage 1, Christmas Production, 'Prickly Hay'.
December 2nd.
Many, many thanks to all the parents, carers and grandparents who attended the Key Stage 1, Christmas Performance, 'Prickly Hay', on Tuesday 2nd December and who responded to our little feedback sheet.
It was a resounding success thanks, to all the hard work, support, and the the and energy spent by parents, carers and grandparents and by teachers and teaching assisstants in creating this fabulous performance.
Thank you for sharing in the children's fun, singing and performing. All part of their holistic learning and education.
It is a statutory requirement that schools should encourage pupils' SMSC development. Ofsted declares:
The curriculum for a maintained school (must be) a balanced and broadly based curriculum which —
(a) promotes the spiritual, moral, cultural, mental and physical development of pupils at the school and of society; and
(b) prepares such pupils for the opportunities, responsibilities and experiences of adult life.
Engaging children in this type of learning, enables all children to try new experiences, take on new opportunities and responsibilities that create memories which often, last a life time. We know, from your resonses, that you all agree.
Reporting to Parents 27th November
last week we held our Autumn Parent / teacher conferences and introduced the new reporting format.
All response to the new 'Reporting to Parents' sheets, have been read. There were 12 out of a possible 305.
All parents were given a feedback sheet to comment on so it could be analysed that if they didn't comment, then they are happy with the new reporting format.
Out of the 12 responses, 8 were in favour of the new format while 4 were not.
The head teacher and the Deputy head teacher discussed what they should do with the responses and as the government have given schools no direction on assessment, they felt that what we have produced is a very good step towards giving parents a fair account of where their child's progress is in relation to the end of year objectives.
Dear Parents / Carers,
Thank you to those who have replied with ideas for courses they would like to attend after school.
I have read them all with great interest. Unfortunately, at the moment we have only had 12 replies, 11 by slip and 1 on this page. 5 people said they would not be interested or couldn't attend so that leaves 7 people who are interested. The result in lack of interest in courses means that it is not possible or cost effective to run them. I'm really sorry about this.
for I will leave this comment box open so parents / carers can add they interest.
Mrs. S. Roberts
1.12.14
Poetry Day with Ian Bland
October 8th and 10th
Ian Bland, a local poet from Rawtenstall, came into school and worked with all the children. They learnt how to develop their vocabulary, how to structure a poem and reshape them for effect, expression and entertainment.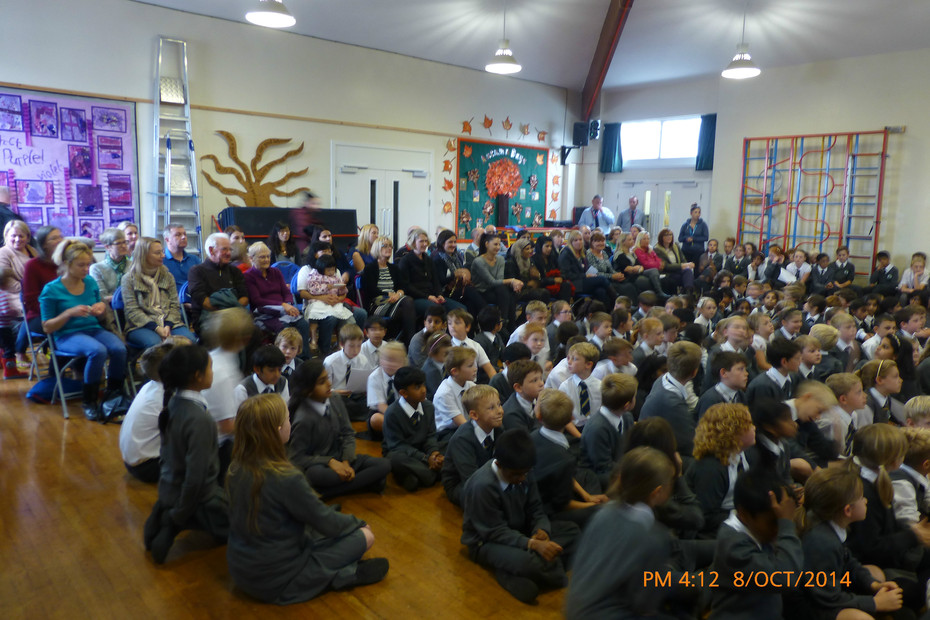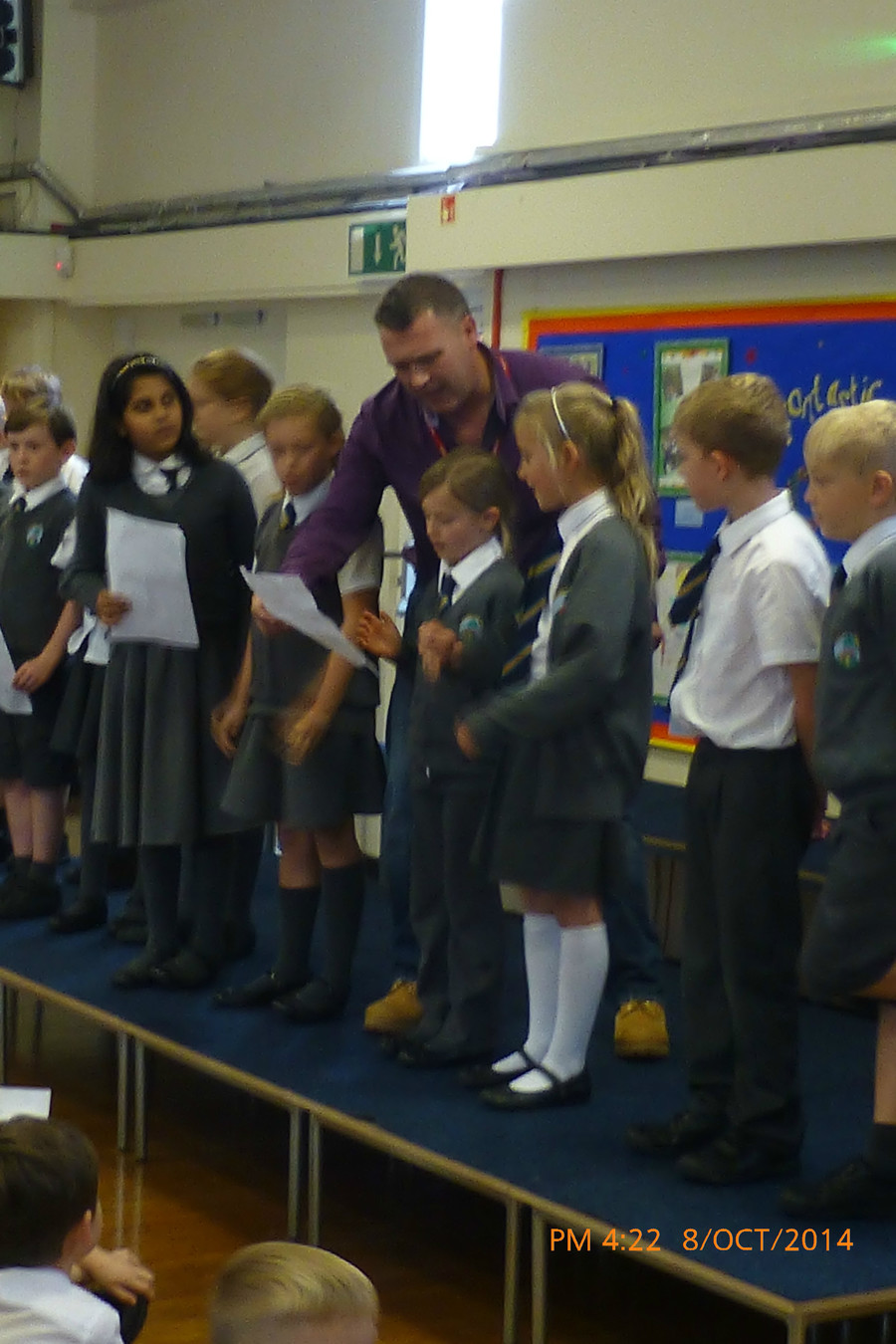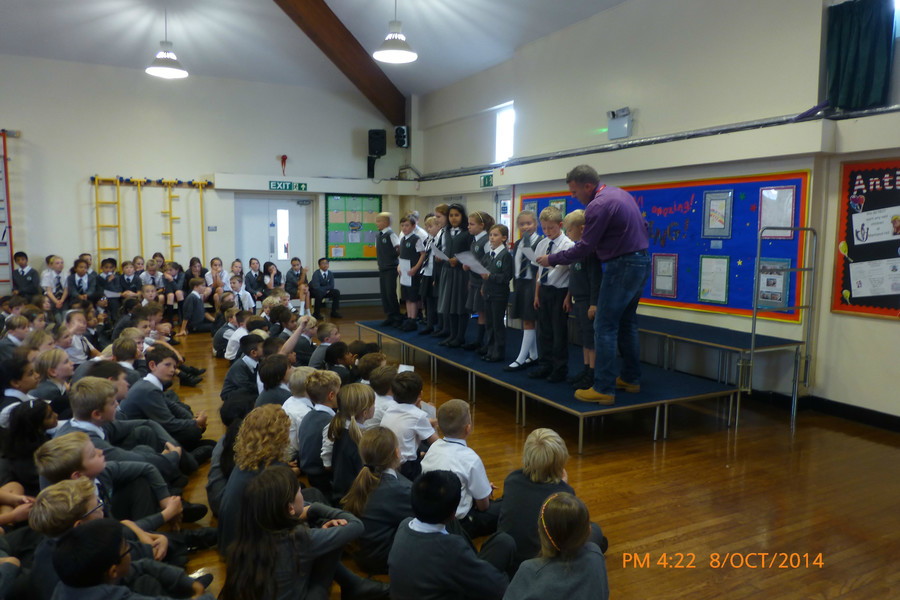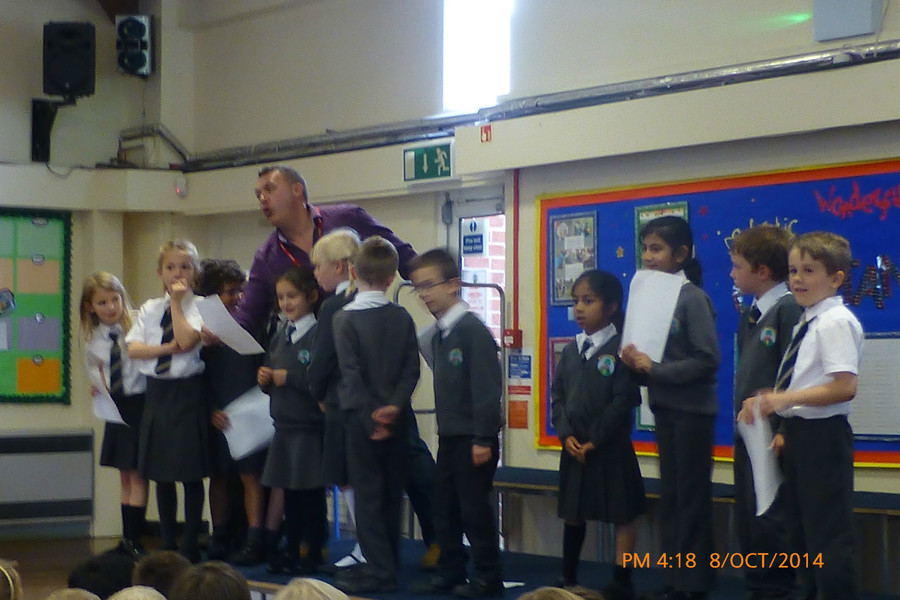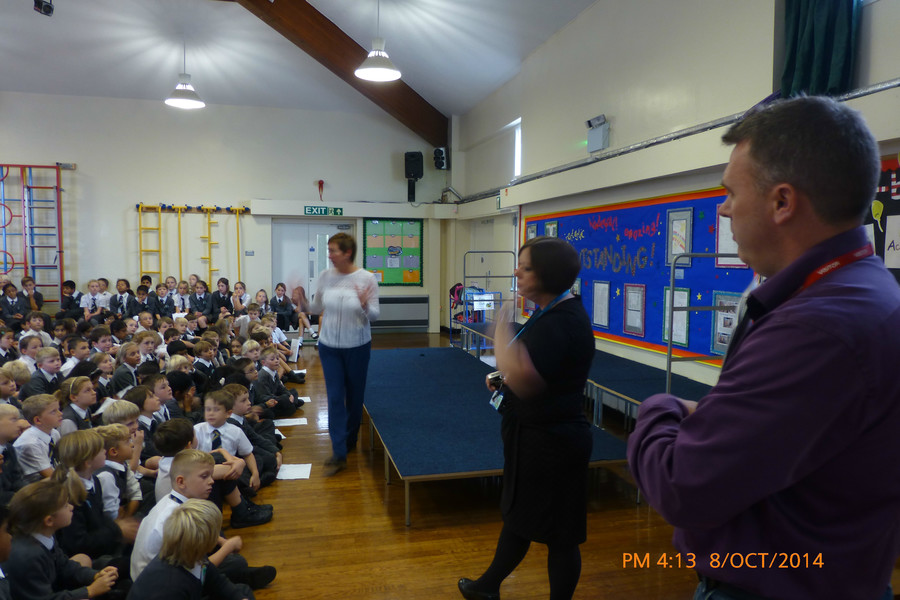 We were very keen for our parents to come and see what the children had been doing. The children had opportunities to present samples of their work, on the stage in assembly, to all the other children and parents. It was great fun!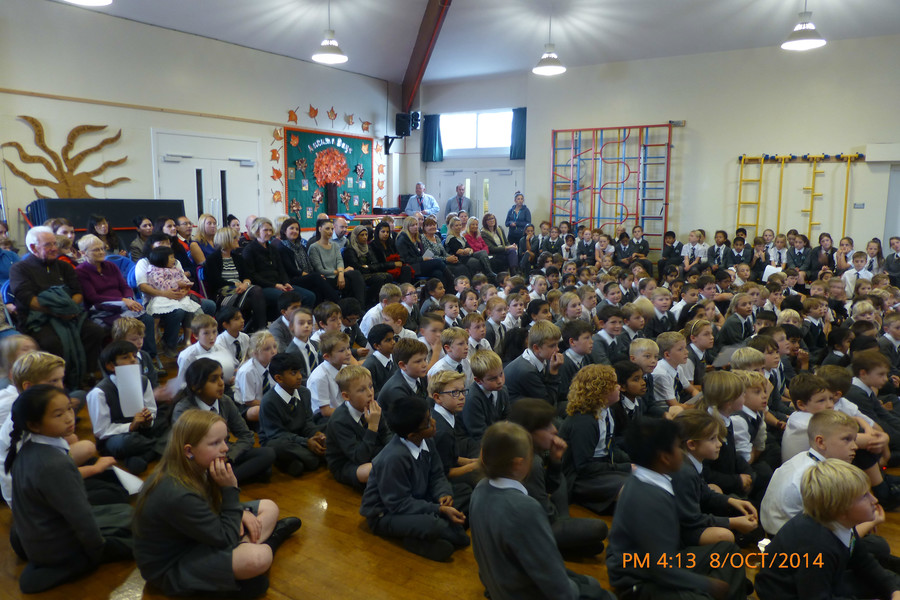 The parents who came had a wonderful time. Thank you for celebrating the children's achievements.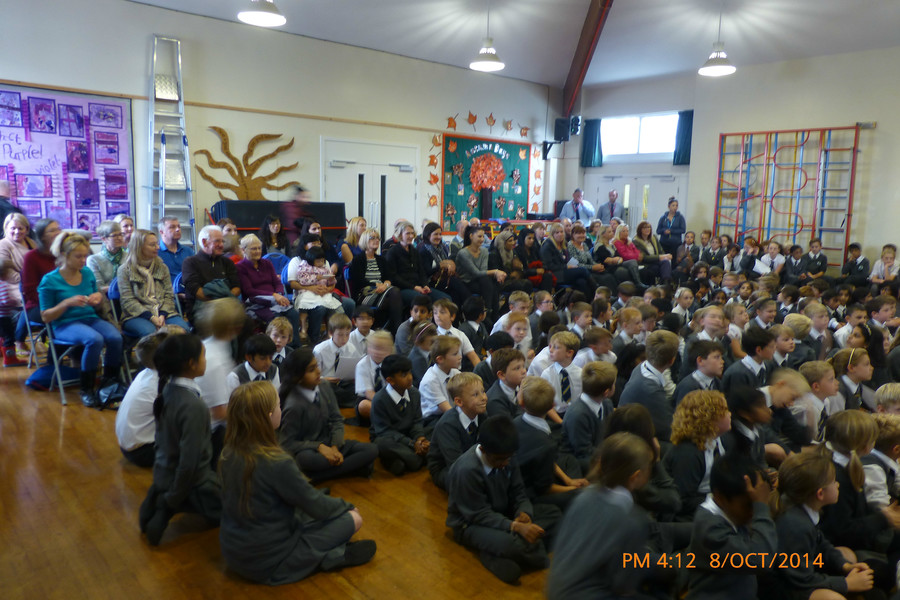 Survey: Quality of Home School Communication
Thank you very much to those parents who returned our survey. Please look at the responses below:
The results from this survey, in partcular, how we communicate to you show
The results from
How good is the quality of communication from us to you? are shown here.
| | | | | |
| --- | --- | --- | --- | --- |
| | Excellent | Fine | Could be Better | Excellent+ Fine |
| Email | 88% | 10% | 2% | 98% |
| Text | 79% | 17% | 4% | 96% |
| Letter | 67% | 29% | 4% | 96% |
| Weekly News Letter | 87% | 13% | | 100% |
| Post Card about First Aid | 45% | 50% | 5% | 95% |
| Post Card about Years five & six Homework. | 63% | 20% | 17% | 83% |
| Reading Diaries | 53% | 37% | 10% | 90% |
| Phone Calls | 64% | 33% | 2% | 98% |
| Informal Playground Chat | 40% | 48% | 12% | 88% |
The only two forms of communication, which recieved less than 90%, were Communication through Postcards sent home for Years five and six - 83% (which we longer do) and Informal Playground Chat - 88%. Whilst both scores are still high, we recognise that some parents might feel this could be improved.
As a school, we would like to say that we always welcome any communuication by any parent / carer. If a teacher is not on the yard, then please come into the office and ask to speak to them. We always do our best to speak to concerned parents as soon as possible.
How we hope to achieve the LPPA
The LPPA consists of ten evidence-based Objectives:
1. The school demonstrates a commitment to work towards the LPPA
2. The school makes and implements effective plans to achieve and maintain the LPPA
3. The school is a welcoming and friendly place for parents/carers
4. The school promotes an awareness of and participation in lifelong learning opportunities available in school and the community to all groups of parents/carers
5. The school holds and actively promotes enrichment opportunities or events for joint parent/child participation
6. The school provides good induction for all new parents/carers
7. The school provides parents/carers with relevant and user-friendly guidance and information to help them support their children's learning
8. The school produces and implements parent/carer friendly policies to establish effective home school links and improve pupil/student attendance, punctuality, behaviour and progress and positive participation in school
9. The school provides good support for transition for parents/carers when their children leave the school
10. The school evaluates performance against the LPPA Objectives and Key Performance Indicators